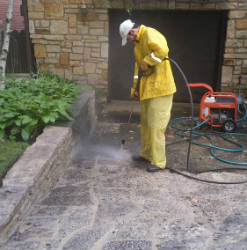 By using the cleaning services of a proven and established company like ours to maintain your patio perfectly washed, you will have presentable outdoor areas. Our cleaning technicians are supplied with heavy-duty jet washers that use water extracted under pressure to remove stubborn stains, dirt and soiling without residue.
We can transform your overgrown and darkened pathways, tiles and slabs back to their shiny and impeccable condition. Our technicians can carry out effective and thorough patio cleaning in your home and business property located in Kilburn with excellent results.
Trustworthy Patio Cleaning Kilburn
By using the professional cleaning services which we offer you can expect:
Pressure washed paved, tiled, natural stone, brickwork areas
Efficient and successful cleaning procedures
Eliminating of stubborn grime, stains, mould and mildew
Eradicating of weeds, moss, algae and lichens
Applying non-slippery and resistant coatings upon request
You can have your patio washed well with the help of advanced machines that work with hot and cold water under pressure. They restore the clean and spotless state of all types of outdoor surfaces. We can clean effectively pathways, external walls high no more than 2 meters, pavements, tiles and slabs.
Our cleaning technicians can remove darkening, stains and grime from natural stone patios like marble, limestone, granite, etc. Call us to specify your personal requirements and get a free and no obligation quote. Our patio cleaning services are at your disposal in Kilburn seven days in the week.
Veranda and Driveway Cleaning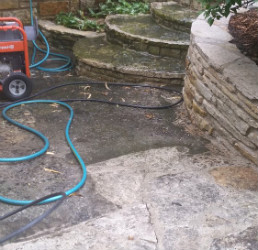 Providing regular washing of your patios is necessary as outdoor areas get filled with dirt, stain, moss and contaminants being exposed to the elements at all times. We can make your overgrown and filthy patio perfectly clean, rid of the weeds, algae, moss and lichens. The pressure washing machines we use ensure effective removal of the dirt and soiling without leaving a trace.
Our cleaning technicians can choose the most suitable spray to protect your bricks and pavements from overgrowing. They can apply a sealant over the washed surfaces to keep them non-slippery and clean long time. Our patio cleaning services are available in Kilburn seven days per week.