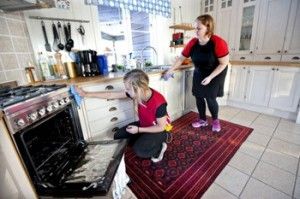 If the time for your end of tenancy cleaning has come, you need to think carefully for your choice of cleaning company. The option to try to perform the cleaning procedures on your own also exists, however it would be more than time consuming activity that would require a lot of efforts. For that reason, we are kindly inviting you to take advantage of the services of Cleaner Kilburn. We have a lot of experience when it comes to end of tenancy cleaning in Kilburn and we are determined to prove to you that we apply each of the cleaning procedures in a careful manner. We fully understand the importance of this procedure and we promise that after finishing with it, you won't experience any further problems with the landlord or estate agencies.
We encourage you to choose us and to take up with all the other tasks that you certainly have during the process of moving out. We want to help you in this stressful situation and to facilitate your life.
Tenancy Cleaners Kilburn
What we include in our end of tenancy cleaning is the following:
effective sanitizing of the premises
professional treatment of every detail
cleaning products that are biodegradable
innovative cleaning approaches
affordable prices for the customers
We are welcoming you in the most outstanding company at the territory of Kilburn, London. Order the end of tenancy cleaning and you will be amazed by the exclusive offers that we have prepared for you. Our primary aim is to meet the expectations of the customers and to be really helpful with performing of this complicated procedure. In our end of tenancy cleaning we include sanitizing of all the premises and maintaining of a high level of hygiene. Our team of responsible cleaners relies only on cleaning products that are biodegradable and that have proven their efficiency through the years. The innovative cleaning approaches are another benefit for the revered customers. These methods are applied for dealing with more severe stains and dirt. You can learn more about the affordable prices of the company thanks to the customer support centres that work both during the week and at the weekends. Get in touch with us.